Businesses
Employees'
Low Education —
the challenges for
local business
Businesses need employees with at least a high school-level education and strong English communication skills in order for them to be effective in the workplace and to help businesses succeed.
Due to the employment market, some employers hire individuals with lower literacy and/or English communication skills than is desirable and find they need to invest in helping their employees improve these skills in order to be more productive workers and grow within the company.
About 60% of employers give job applicants some type of entry test, and 36% of those applicants are found deficient in basic reading and math.1
80% of manufacturers report a moderate to severe shortage of qualified job candidates.2
Low literacy costs the U.S. $225 billion or more each year in non-productivity in the workforce, crime, and loss of tax revenue due to unemployment.3
Research shows that gains in literacy and English communication skills impact the lives of individuals in many positive ways. Businesses gain by having employees:
be more productive and knowledgeable on the job
who adapt to changing needs in the workplace
better positioned for promotion and higher wages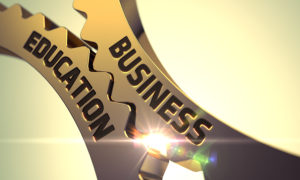 Employees' Low Education – the daily challenge for your employee
Busy with one or more jobs and family life, most adults with low literacy and/or low English communication skills do not have the time, financial resources and/or transportation needed to 'go back to school' at traditional, fixed-site adult schools or colleges that have set schedules during the week.
In addition, local academic institutions typically have curriculum-based education (i.e. one size fits all), whereas adults with low literacy and/or low English communication skills more often respond better with an individualized, needs-based educational approach.
How Can We Help You?
LCS has a number of advantages over traditional institutional educational services. Local educational institutions have fixed locations, set schedules during the week, and fees/tuition — those interested must go to their location in order to be served. No exceptions.
The Literacy Council of Sarasota offers an alternative to the traditional fixed-site, set schedule, fees/tuition, and one-size-fits-all curriculum approach with adults. We provide educational services on-site at your location; where adults already are during the day, on their timeline, at no cost to them (the business is sponsoring), and that addresses their real-life, every day educational and literacy needs.
By providing educational services on-site, adult learners are able to attend conveniently located classes held at a place with which they are familiar and that they trust.
1. (Source: American Management Association)
2. (Source: Did You Know?, Center for Workforce Preparation)
3. (Source: National Council for Adult Learning)).