Give the Gift of Literacy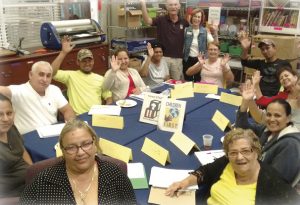 For Several years the Literacy Council has provided English as a Second Language (ESL) instruction for parents whose children attend school at Children First. Literacy Council instructor, Kathleen McEachran (standing in the back with Children First's Jack Baker), is on her second year of teaching these parents everything from English conversation and listening comprehension skills, to American culture and idioms. Every year as part of our Health Literacy program this group participates in a smart-shopping field trip to Publix which focuses on healthy nutrition.
---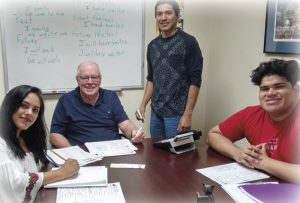 Literacy Council instructor, Bob Kenel has been active with us since 2015. He has taught GED classes at our community partner sites (Visible Men Academy, PGT Innovations, and Jewish Family and Children Services), and has volunteered his time twice a week for over two years providing GED-prep instruction for adult learners at the Literacy Council. "Some of our learners went as far as the 12th grade, but never graduated," says Bob. "We work to help them gain back their skills, improve their self-esteem, and show them that there is a way to a brighter future starting with getting their GED."
---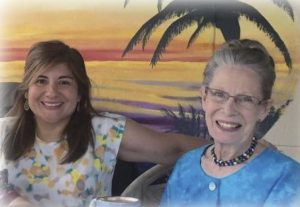 Born in Peru, Grisel came to America in 2011 to marry her fiancé and begin a new life. She left behind family, friends, and a good job as a corporate executive to pursue her dreams. Starting from zero in a new country was very difficult, and Grisel knew she needed to be more fluent in English for both her family and career. She turned to the Literacy Council and was matched with her tutor, Dr. Diana Graham, (pictured here in blue), who helped her improve her English and attain her U.S. Citizenship in December 2016. "I will always be thankful to the Literacy Council of Sarasota!" says Grisel.
---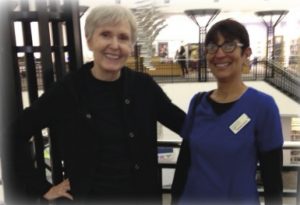 Vanessa, her husband, and their two daughters came to Sarasota from Cuba in 2012. Vanessa has been a dentist in Cuba and her husband was a lawyer. Vanessa spoke no English when she arrived in the U.S., but within two months she began to work with Literacy Council volunteer tutor, Janet Andres.
Vanessa has worked toward her nursing assistant certification, as a bagger at Publix, and an occasional weekend shift as a CNA. She now works full time, but still meets with Janet to improve her English as she studies toward her next career goal of becoming a dental hygienist.
---
This slideshow requires JavaScript.